Emotional strength quotes: Life is full of highs and lows that may check the spirit that may push you to beat challenges— and the teachings you'll learn on your thanks to the top will only make you stronger and gives you courage.
"Never trust your fears, they don't know your strength." –F. Rawal
Here are 35 quotes to remind us of the power and importance of inner or emotional strength and why we should focus on developing it further. For this read these inner strength quotes, quotes about emotional strength and courage. These short inspirational quotes about strength, hope, courage, and the bible help you to live a happy and satisfied life.
"You do not see your own strength because sometimes it is hidden from you by two people: yourself and the person who benefits from your weakness."  -Dodinsky
"Your value doesn't decrease based on someone's inability to see your worth." -Unknown
"Have hope, Be strong, Laugh loud, Live & Play hard, Smile often Big, Remember you are Loved and Never ever give up." -Faisal Dilawar
"You have the patience, the strength and the passion to achieve your ambitions, your goals, and your dreams. All you need to do now is try."
"If it doesn't challenge you, it won't change you"
"Strength will find you sooner than you ever thought it would."   -M. F. D
Courage does not always roar, sometimes courage is the quiet voice at the end of the day saying, "I will try again tomorrow."  -Mary Anne Radmacher
Inspiring quotes about strength & courage that will help you get up on your feet
"The strongest people are not those who show strength in front of us but those who win battles we know nothing about."    -Unknown
"You were given this life because you are strong enough to live it."
"You can be defeated by life's unavoidable disappointments, or you can become stronger because of them."   -Kay Arthur
"The strongest people aren't always the people who win, but the people who don't give up when they lose."  -Ashley Hodgeson
"Struggle is the key to strength" -Faisal Dilawar

I am strong and beautiful
"I'm strong because I know my weaknesses. I am beautiful because I am aware of my flaws. I'm fearless because I learned to recognize, illusion from real. I am wise because I learn from my mistakes. I'm a lover because I have felt hate and I can laugh because I have known sadness."
emotional strength
"Worrying won't stop the bad stuff from happening it just stops you from enjoying the good."
"You are so much stronger than you think."
"Strength does not come from winning. Your struggles develop your strengths. When you bear hardships and choose to not surrender, that's a strength." – Arnold Schwarzenegger
"Hold onto what makes you strong & let go of everything else."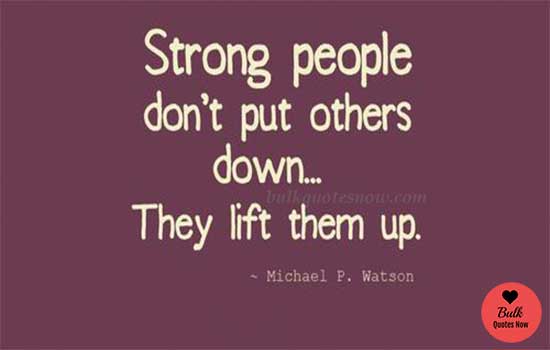 "Strong people don't put others down… They lift them up."   -Michael P. Watson
"Hope is the only thing stronger than fear"
"True strength is keeping everything along once everybody expects you to fall aside." – Unknown
"Courage isn't always grandiose. Sometimes courage is the little voice at the end of the day that says, I'll try again tomorrow.   -Thomas S. Monson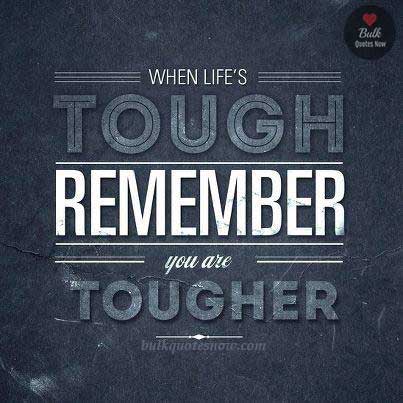 "When life's Tough, Remember you are Tougher"  -Unknown
"Tomorrow is the first blank page of a 365-page book. Write a good one." -M. I. Anjum
"Being strong will never be easy. But every time that you are, every time after that is a little less hard."
"You are confined only by the walls you build yourself"  -Unknown
"Don't be pushed by your problems. Be led by your dreams." -Ralph Waldo Emmerson
"Do you believe that there are no accidents in life? Everything happens for a reason. Every person we meet will have a role in our lives, be it big or small. Some will hurt, betray and make us cry, to become stronger. Some will teach us a lesson, not to change us, but for us to realize our mistakes and to help us grow, and make us a better person. And some would simply inspire and love us to make us happy." -F. Dil